SDM-15 Conference Proceedings
Volume Title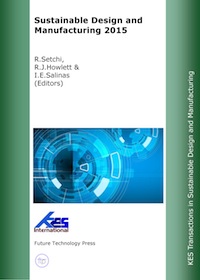 The conference proceedings are published as

KES Transactions on Sustainable Design and Manufacturing
Vol 2, No 1
Edition - Sustainable Design and Manufacturing 2015
R.Setchi, R.J.Howlett and I.E.Salinas (Eds)
Future Technology Press, England, UK
ISBN (Print): 978-1-911108-00-9
One volume, 720 pps

Contents Pages
The proceedings contents pages are available as a PDF file
.. here ..
Note
The title and ISBN will take some time to be processed by the ISBN agency and appear in book distribution channels.
Pre-proceedings
The conference papers for all sessions can now be viewed using the PROSE system
.. here ..
If you do not have a PROSE userid for this conference, you may log in using 'guest' for both userid and password.
Log in using your usual userid and password selecting the 'Pre-Proceedings Online' radio button on the login screen.